Our 6 A SIDE Junior Cricket League is returning from April 28, 2022!
Register your team for Thursdays (12s and 14s) – Game times begin from 5pm!
*Cricket Clubs who register teams will be eligible for discount Cricket Net Sessions for PRE SEASON Training!
*Individual Registrations are also welcome!
Cost – $60 per Match with NO REGISTRATION FEES
Registrations can be made via the form or by calling 9547 2555!
Registrations for our new 2022 Season is now open! New teams and players are welcome to join at anytime throughout the season (if spot available).  Tuesday 6-a-side (Multiple Divisions) Wednesdays 8-a-side. Thursday (Mixed Cricket 6-a-side).
Springvale Indoor Sports offers men's, ladies and mixed graded indoor cricket competitions for everyone from beginners to experienced players. 
Match fees are $81 for 6 A SIDE and $104 for 8 A SIDE.
Ladies Indoor Cricket Coming Soon on Mondays from May 2nd (6 A SIDE)
We are one of the best Indoor Cricket Centres in Melbourne. Our facilities were renovated for the National Indoor Cricket League's Indoor Open Championships in 2012 and upgraded for the Indoor Open Championships in 2016. 
Cooling and heating systems operate, keeping you refreshed and focused on the game at all times. We also have a state of the art scoring systems with full player statistics and online statistics available. 
After sports drinks is a must at our venue, our bar is open every night for a cold one with the boys to cool off and chat while watching live sport! We offer a buy 4 get 4 free special for our dedicated cricket team players! (Term & Conditions applied)
Registrations can be done in person or online!
For online, you can fill out the form below or visit our registration page to register or join a Melbourne cricket team! Our Cricket Manager Brodie or any of our helpful staff are happy to assist you with all your team and competition enquiries1
Sign Up Your Team
or Looking for a Team
Our casual one hour cricket court bookings are $60. Book and play two hours or more for a discounted $50 per hour.
We also hire out our cricket nets/lanes and have a total of 9 cricket nets for hire. (6 Long/Extended Run Ups 42m long) and 3 Regular Run Ups. (minimum 2 lanes hire).
Costs are:
Regular Run Up – $35 per hour/per net
Long Run Up – $40 per hour/per net
Please call us on 9547 2555 or email to book.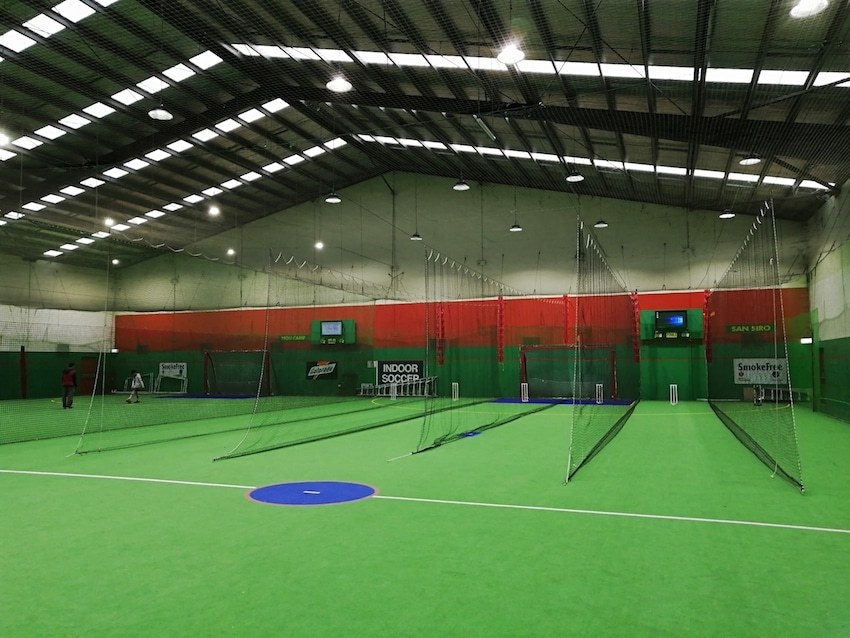 Indoor Cricket is a fast-paced and popular indoor sport in Melbourne. It's a modified version of outdoor cricket played on a fully carpeted and netted court. Most of the rules are the same, with the exception of some slight variations that make everyone become more involved in the game. Here are a few of the more common ones you should know:
Each batting pair bats 4 overs each.
Everyone bowls 2 overs each.
Only have to run half the pitch when batting.
Jackpot ball start of each batting pair worth double.
Or check out the fully comprehensive "Official Rules of Indoor Cricket Australia" guidebook!
And don't forget to visit our registration page or fill out the form above to register your team or join a cricket team.